Welcome to Encinas Special Operations Group-Tactical
Knowledge is the key to defense, and Special Operations Group-Tactical is here to give you that knowledge. SOG-Tactical is an operation that has come together with the training mission of serving the Law Enforcement community's Special Weapons and Tactics Teams, Special Response Teams, Special Enforcement Teams and anyone interested in training for these types of special interest positions.
Special Operations Group-Tactical Staff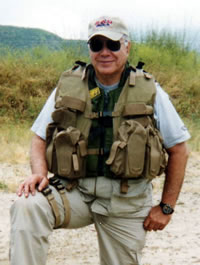 Theodore "Ted" Encinas, BA
Director of Operations
SAPD Ret., Former USASF
Ted is a retired Police Officer having served in various Southern California Police Departments. His background includes assignments as; Field Training Officer, SWAT Officer, Special Enforcement Detail, Buried Undercover Militant Prison Gang Intelligence Agent, Robbery Prevention Surveillance Team, Special Forces enlisted service as a Communications Specialist, cross-trained in light weapons, demolitions and medical aid. Service as a commissioned officer included Operational Detachment "A" Executive Officer, Range Officer, Training Officer and the Team Intelligence Officer. As part of his SWAT duties, Ted was assigned to work with the Secret Service Presidential Protection Unit when President Nixon visited Ontario, CA. on a campaign stop. During the 1984 World Olympics, Ted was assigned as the Supervisor for the Norco Olympic Shooting Venue.
Mr. Encinas has operated California Security Academy, a California State Bureau of Security and Investigative Services, licensed Firearms Training Facility for since 1974. The academy has trained security personnel in basic handgun and shotgun use as well as advanced tactics. Mr. Encinas is also a BSIS licensed Firearms Instructer and Range Master.
Mr. Encinas was contracted to single handedly train a 40 man Terrorist Reaction Unit at a training site in the mountains of West Virginia. This training consisted of all aspects of premises security, patrolling tactics and techniques, ambush and counter-ambush tactics, Repelling and Helicasting, Direction and Ground Control of aircraft arriving and departing, firearms training for handguns and assault rifles, perimeter control using the deployment of seismic sensor systems and techniques of Bodyguard and Executive Protection tactics. Mr. Encinas was responsible for writing the lesson plans and presenting the training himself on site.
Senior Instructor/Coordinator
Former Sgt. USASF

Michael "Mike" Eckard attended the Special Forces Qualifications Course as a Special Forces Communications Specialist. His cross-training was in the areas of Special Forces Medical Assist and Assistant Light Weapons Specialist Once he completed the SFQC Mike was assigned to a Special Forces Operational Detachment. He was subsequently sent to Viet Nam where he served on a Special Forces Operational Detachment "A" in the II Corp area of Operations in South Viet Nam.
Mike was re-assigned to "SOG," AKA, Studies and Observation Group. He was assigned to work in Cambodia training and leading the FANK Teams in weapons and tactics. His duties included leading the teams on combat operations in Cambodia. Following his active duty Mike exited the active US Army and entered the 12 th Special Forces Group, Airborne, US Army Reserve.
Mr. Eckard has attended various Advanced Firearms Training Courses at some very outstanding schools or training facilities. As a result Mike has been contracted numerous times to train such personnel as the General Staff of the Special Forces Command, Fort Bragg, North Carolina. He has trained US Army Reserve Military Police at the Armed Forces Reserve Center in Los Alamitos, California, prior to their deployment into combat areas. He has been qualified in the use and training of the latest firearms and handguns in service with today's armed forces overseas in combat areas.
Mike has persevered in his training and therefore has become the Coordinator of the programs at SOG-Tactical. Mike has qualified many times over in his knowledge and use of assault weapons and handguns. He has attended many courses in the training of Personal Security Details, Executive Protection Detail, Escort Protection details and other such courses.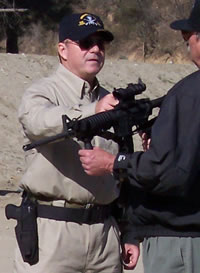 Robert "Bob" Crebbs
Instructor/ Senior Medic
Supv. USINS, Border Patrol
M/Sgt. USASF Ret.
Robert "Bob" E. Crebbs, is a Retired Special Forces Master Sergeant, and retired Supervisory Special Agent of the US Dept. of Justice, INS, Border Patrol Service. Bob attended the Special Forces Qualification Course where he received Special Forces Medical and Special Forces Communication training. He served as a combat Medic with the 101st Airborne Division in Viet Nam. He later returned to the Special Forces as a Combat Medic. He was assigned to the Operations and Intelligence sections of several Special Forces Reserve Companies and Battalions. He was the Senior Operations & Intelligence NCO for Special Operations Command, Korea. Currently Bob is serving as the Command Sergeant Major for the 40th Inf. Division (M) Support Brigade, a California State Military Reserve volunteer position.
During his career in the INS, Bob promoted from Border Patrol Agent to Criminal Investigator and up to District Adjudications Officer. His duties included Firearms Instructor, Impact Weapons Instructor, and First Aid/CPR Instructor. Bob is a Certified Instructor under the California Commission on Peace Officer Standards of Training (POST) in Firearms, Impact Weapons and in First Aid/CPR. He received training from both military and civilian programs in the areas of VIP and Dignitary Protection. Bob has been a Firearms and Impact Weapons Instructor at California Security Academy for several years.
Bob attended and taught several courses in Terrorism and Anti-Terrorist Tactics. He was assigned to the "Joint Anti-Terrorist Teams" during the 1984 Olympics and the 1994 World Cup Soccer games. He was the Agent in Charge of the Anti-Terrorist section in the Los Angeles Office and in charge of the INS, Anti-Terrorist Operations Center, during the 1984 Olympics.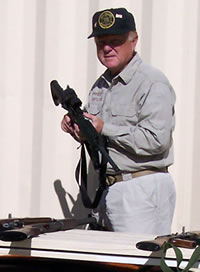 Randall "Randy" Hedges
Instructor/ Medic
LASD, Ret., Former USASF
Randy has recently returned from a one-year assignment in Afghanistan, where he was contracted as a Police Monitor/Advisor to oversee the training of the Afghan National Police, Highway Police and the Border Police. The training involved all levels of Law Enforcement tactics and weaponry. Prior to the Afghanistan tour, Randy had spent a one-year contract tour as the Commanding Officer of a Border Police Unit in East Timor. He was responsible for training the personnel in tactics, Criminal Adjudication and weaponry.
Randy is a retired Los Angeles County Deputy Sheriff, Sergeant. He worked in the County Jail and then went out into the field as a Deputy Sheriff on Patrol. His last assignment was in the Detective Bureau as the Team Leader of a Special Crimes Unit.
Prior to employment with the L.A. County Sheriff's Department Randy served in the US Army Special Forces. After he completed the Basic Airborne Course and Special Forces Qualification course and obtained the specialty at that time of Demolitions Specialist, which is now a Combat Engineer. He was cross- trained in Medical and Light Weapons. He attended the Underwater Warfare School and subsequently was assigned to a Special Forces SCUBA Operational Detachment "A" as an Underwater Demolitions Specialist . Randy continues to train with weapons and is an integral part of the staff at the Special Operations Group Tactical.